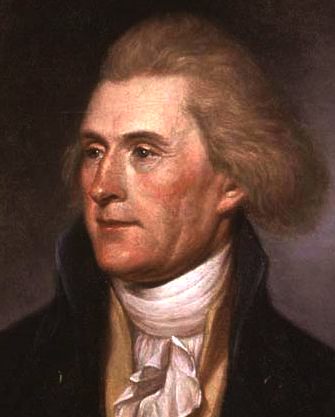 In Search of Jefferson's Moose
Notes on the State of Cyberspace
by David Post
Code and Other Laws of Cyberspace, Version 2.0
by Lawrence Lessig
In Search of Jefferson's Moose by David Post (Oxford, 2008) explores the global phenomenon of the internet , which, the book observes, has become so ubiquitous, it now merits a small 'i', like the small 't' for telephone or television, rather than a capital 'I'. In doing so, the book toggles between fact and analysis packed observations, wonderfully footnoted with an almost David Foster Wallace brio, with a focus on Thomas Jefferson in the 18th and 19th century and the explosive growth of the internet in the 19th and 20th centuries. Much deliberation is given to the American wilderness of Jefferson's day, and the new digital domain which has opened up in our own. Post looks at the internet as wilderness, in all its wild potential and capacity for anarchy, that to date, the author posits, has been tempered with democratic and self-governing values. As such, it seems to be a distinctly American phenomenon. The book also explores how the Hamiltonian view for central, Federalist organization, and the Jeffersonian struggle for the democratic, the-less-government-the-better vision, bumped up against each other in the early days of the republic, and how they also do in this new wilderness.
At heart, ISOJM is an elegantly reasoned and written book about Thomas Jefferson and about cyberspace. The "moose" of the title appears when Jefferson went through great efforts to have a moose hunted, stuffed, shipped to Paris, and reconstructed, to show the Old World why their theories about nature in the New World were wrong. Many French philosophers and scientists argued that the unknown environment had caused animals and humans to degenerate in the New World -- every creature was assumed to be smaller and less powerful in American than it was in Europe. To prove his point, Jefferson had an entire dead moose shipped to Paris and reconstructed in his entrance hall. The moose which was seven feet tall stunned visitors and proved that the New World was not a degenerated version of the Old. Jefferson was concerned that this fear would discourage potential emigration to the New one.
In a couple of places in the book, the author, a law professor and specialist in internet and intellectual property, seems to bump up against Lawrence Lessig, his colleague and friend who teaches at Stanford. Post leans toward the Jefferson view, which, projected on the internet, suggests that it is a place where the wild things are that can be most effectively restrained by Jeffersonian self-government and self-regulation, even at the smallest levels. Lessig on the other hand feels there's a common belief that cyberspace cannot be regulated-that it is, in its very essence, immune from the government's (or anyone else's) control. His book, Code, first published in 2000, argues that this belief is wrong. From his website: "It is not in the nature of cyberspace to be unregulable; cyberspace has no "nature." It only has code-the software and hardware that make cyberspace what it is. That code can create a place of freedom-as the original architecture of the Net did-or a place of oppressive control. Under the influence of commerce, cyberspace is becoming a highly regulable space, where behavior is much more tightly controlled than in real space. But that's not inevitable either. We can-we must-choose what kind of cyberspace we want and what freedoms we will guarantee. These choices are all about architecture: about what kind of code will govern cyberspace, and who will control it. In this realm, code is the most significant form of law, and it is up to lawyers, policymakers, and especially citizens to decide what values that code embodies."
So, between these two scholars, we see a current exploration of the Hamiltonian and Jeffersonian views on government and society and their impact upon this "new World" of the internet.
America may be floundering amidst the financial adventures of advanced capitalism at the moment, in a drive for a pursuit of happiness that , being interpreted as purely materialist , has morphed into simple greed. But the truest revelation in the book, to this reader, is that the USA's purest brand -- what makes us so essential and distinct to the world -- might remain our instinct not just for innovation in the arts and sciences, but the ongoing struggle to understand, explore, and challenge notions of organization and freedom, with a goal toward the preservation of freedom and a sense of wilderness in a purely American context. In that we are and shall remain unmatched.
More from David G. Post here:
http://jeffersonsmoose.org/
More from Lawrence Lessig here:
http://www.lessig.org/blog/